M3 Vendor Connectors
M3 Connectors allow you to effortlessly identify and gather the details of your vendor subscriptions and services. Throw out your clumsy, out-of-date spreadsheets and let M3 Connectors retrieve and maintain your vendor commitments through the latest API and portal scraping technologies.
Get control of your growing list of vendors through MISO3.
To learn about M3 Vendor Connectors, please see frequency asked questions in our Knowledge Center or contact the MISO3 team today.
Create common views and alerts across all vendors
Manage all service types to include licenses, subscriptions and networking solutions
Make timely and informed decisions
Align services, save time and reduce costs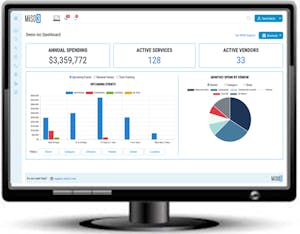 One Portal, Hundreds of Vendors, Thousands of Services.
How Affordable is MISO

View MISO's range of managed service solutions. See which level is right for you.
See Pricing Options
See How It Works

Learn more about how MISO3 can help your company. Schedule a demo to see just how easy it is.
Schedule Your Demo